| | |
| --- | --- |
| CSI: Miami Says Goodbye to Dr. Alexx Woods | |
| | |
Personal Information:
Function: Medical Examiner
Height: 5'4
Weight: 114 lbs
Hair: Brown
Eyes: Brown
Race: African-American
DoB: August 13, 1960
PoB: Queens, NY
Education: B.S. in Chemistry, New York University; M.D. Rutgers University
Address: 3264 Linda Vista Court Coral Gables, FL 33124
Special Skills: Medical Examiner
Marital Status: Married
Backstory:
The eldest of six children, Woods watched over her four brothers and sister. Her parents worked long hours and numerous jobs trying to keep the family above poverty. Such a duty ruined any chance for a social life, but that was of no consequence to Woods: all the friends she needed were under one roof.

Her only complaint was the cleanliness of the house. Being compulsively neat, she needed the house to be in perfect order. She would even scold her parents for leaving clothes around. So with her passion for caring and attention to detail, it came as no surprise to her family when Woods announced she wanted to be a doctor, even though she was only 12 at the time.

While working on her MD, Woods kept to herself, becoming one of the top students of her class. She was always eager to return home, until her first day of residency, when she met her husband-to-be.

Woods was close to finishing her residency, her wedding was in the works, and she was already getting promising offers to pursue after graduation. Everything was as she dreamed, until she read a patient's chart and caught a surgeon's mistake. He was one of the most distinguished doctors in the city, so she thought he couldn't be wrong. Already having been reprimanded for trying to correct her superiors, Woods didn't speak up. The patient died on the operating table, and the surgeon made sure that Woods carried the blame.

Woods was able to salvage her degree, but the surgeon made sure she could not practice in the city she called home. Though her family and new husband supported her, for the first time in her life, she doubted herself.

Unable to find a position, Woods took a part-time job with the New York Coroner's office. At first she felt this was a step beneath her, but it wasn't long before she realized the work suited her: she was able to spend time alone, bring chaos into order, and, most importantly, she grew to understand that these dead victims needed her to speak for them.

When the county of Miami-Dade approached her to head up their new state-of-the-art facility, it was a difficult decision to make. It meant moving away from her family. But her husband and children, Jamie and Bryan, as did her family, agreed that the people in Miami needed her. People have been confused by her bedside manner with the dead, but to Woods they are her patients and they have come to her because they still have a story to tell.

She's so devoted to her team that she passed up a so-called promotional opportunity because it meant leaving Horatio in the lurch. She sees her colleagues as an extension of her family, rather than just the people with whom she shares a profession with.
Working style:
Is always very compassionate towards the victims. She also adopts her subordinates, as she did with Tim Speedle, and shows them the ropes so they're at least somewhat prepared for the crime scenes they visit. She's there to remind everyone that the work's not over until EVERY clue has been unearthed (in some cases literally) and dissected to strengthen their case.
Personal style:
She dresses business like, yet casual.
Personal demons:
She doesn't show it much but you can tell she's suffering the loss of Tim Speedle, a CSI who she was like a mother to.
Relationships:
Her husband's name is Henry Woods and they have two children, Bryan and Jamie.
Trivia:
Has two kids, a boy and a girl.
Quotes:
"Please don't tell me we just sent a body away with a complete stranger"

"I could undress a dead man in my sleep"

(Wolfe to Alexx "Wait a minute..! you are not going to pop that body in here...!")
Alexx "if i dont Mr. Man might blow in my nice clean van......You wanna clean that up??"

"A body just got up and walked off!?

Alexx: (to Erika Sikes) Get that camera off my body!

Alexx is looking on the clock and waiting for the CSI's
Alexx: All right, look like it's gonna be just you and me Armando, baby.

Alexx: The maggots devoured the infected tissue surrounding the entrance wound, keeping it clean.
Calleigh: And that's what kept him alive. That's amazing.
Alexx:I think he'd use other words to describe it.

Alex: "Or just bad oral."
Eric: "OK, not commenting on that one."

Alex: "He collapsed at a club called 'Fate'."
Horatio: (chuckles) "And the devil laughed"- Bunk

Horatio: "Did the crash kill them?"
Alexx: "Not unless they crashed into a bullet."- Body Count

Alexx: "Mmmm Jimmy Hutton"
Tim: "You do realize he's won the least amount of races on the circuit"
Alexx: "Didn't know and don't care."
Tim: chuckles "Does your husband know about this?"
Alex: "We have a look, don't touch policy."- Grand Prix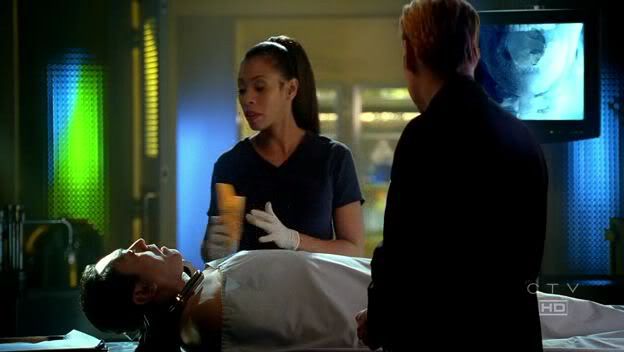 Defining Cases (or Episodes):
Season 1
1.23 Freaks and Tweaks - One of Alexx's closest friends is murdered. Alexx is upset to find out that his wife may have arranged the murder.
Season 2
2.14 Slow Burn- Alexx is caught in a fire in the everglades and is nearly killed when it raves out of control.

2.21 Not Landing - While examining the body of a valet boy, a cell phone in his pocket explodes injuring Alexx. The emotional toll is more than the physical injuries.
Season 3
3.01 Lost Son ~ she lost her friend Tim Speedle, she was always like a mother to him, and i think was closest to him than anyone.

3.16 Nothing To Lose ~ She patched up a felon on the run because he stuck a gun in her face, not because she wanted to help him. Later in the episode, she kicked him in the family jewels to help her young charge escape a bullet, but was taken down when the perpetrator grabbed her boot and yanked her feet out from under her. She proved she was a scrapper by returning to the now burned out swamp to identify his body after he attempted to escape into the flames.

My fave 1-liner from this show was, "Horatio, I think I need a couple of days off," said as she watched them chase the man who'd just tried to kill her.
Season 4
4.16 Deviant

Season 5

Season 6.


6.05 Deep Freeze

6.06 Sunblock

6.16 Rock and a Hard Place - Alex's son, Bryan, is the only suspect in a murder investagation. She is torn between finding the real killer and protecting her son. She is able to do both but realizes that she needs to spend more time with her family and resigns her M.E. post.
Click
EasyEdit
to add your input,
pictures and screen shots.
(Not a member yet?
Sign up.
)